Venue & Hospitality
Meliá Avenida América
C/ Juan Ignacio Luca de Tena, 36
28027 Madrid, Spain
Conference Dates: December 07-08, 2017
Hotel Services & Amenities
Audio/Visual Equipment Rental.
Business Center.
Business Phone Service.
Complimentary Printing Service.
Express Mail.
Fax.
Meeting Rooms.
Office Rental.
Photo Copying Service.
Secretarial Service.
Telex.
Typewriter.
Video Conference.
Video Messaging.
Video Phone.
ATM.
Baggage Storage.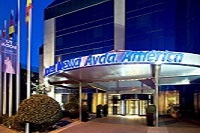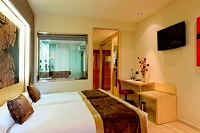 Transportation
7 min (6.3 km)
via A-2- Fastest route, the usual traffic
Adolfo Suárez Airport
Av de la Hispanidad, s/n, 28042 Madrid, Spain
¬ Get on M-14 from Av de la Hispanidad
2 min (1.5 km)
Head east on Camino Cuartel
50 m
At the roundabout, take the 2nd exit
270 m
At the roundabout, take the 2nd exit onto Av de la Hispanidad
1.1 km
At the roundabout, take the 3rd exit onto the M-14 slip road to M-40/E-90/A-2/Madrid/Zaragoza
110 m
-Take Exit 1 and A-2 to Calle Peonías. Take exit 8from A-2
3 min (3.6 km)
Merge onto M-14
500 m
Use the right 2 lanes to take exit 1 to merge onto E-90/A-2 towards Madrid
1.8 km
Use the 2nd from the right lane to continue on A-2
1.1 km
Take exit 8 towards Avenida 25 de Septiembre/Avenida de los Andes
200 m
¬ Continue on Calle Peonías. Take Puente de Felipe Juvara to Calle de Juan Ignacio Luca de Tena
3 min (1.1 km)
Continue onto Calle Peonías
500 m
Use the left lane to turn right onto Glorieta de Yucatán
60 m
Sharp left onto Av. de los Andes
69 m
Continue onto Puente de Felipe Juvara
300 m
At the roundabout, take the 1st exit onto Calle de Juan Ignacio Luca de Tena
Destination will be on the left
190m
Meliá Avenida América Calle de Juan Ignacio Luca de Tena, 36, 28027 Madrid, Spain
About City
Madrid is the capital of Spain, and is home to the Spanish Royal family as well as the Spanish Government. It is a modern metropolitan city and an economical and industrial center of Spain, and, with its population of nearly 3,5 million people, is also the biggest city in Spain.
It is located in the centre of the Iberian Peninsula, and is surrounded by mountains and natural parks. Although it is located in the centre of the country, it has traditionally been the hub between different areas of Spain and is thereforeconnected to all major Spanish cities by train, road or air.
The weather in Madrid varies a lot depending on the season, from hot and dry in the summer, with temperature of approx. 29C-¦ / 85F-¦, to cold (4C-¦ / 39F-¦) and with some rain in the winter.
Attractions
Madrid has a lot of interesting attractions that offer both culture and amusement.
The city is full of great monuments, like the royal palace, the Plaza Mayor or the many statuettes, and for people interested in art, the museums Del Prado, Reina Sofia or Thyssen have some of the most fantastic collections of famous Spanish painters like Velazquez, Goya, Picasso or Miro.
If you like to be entertained, Madrid has two big amusements parks (including the new Warner Bros park) and there are regular international concerts, big flea markets, parades and other activities going on.
To sport enthusiasts Madrid can offer everything from skiing (only 1 hour away by bus) during the winter, to golf all year round, as well as international sporting events and the possibility to practice nearly any sport at the University facilities.
If you like going out at night, Madrid has a very interesting nightlife throughout the whole week and which is available all year round. You can either go out for a tapa (Spanish snack), eat at a very nice restaurant, go to the cinema or one of the many theatres, or find nearly any type of bar or disco.